How To Reuse Artificial Grass In La Jolla?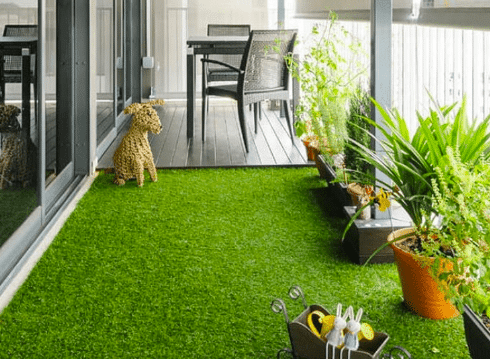 Artificial grass is a fantastic option for those who are looking to create or maintain a beautiful lawn without all of the hassle of traditional grass. However, artificial turf does come with an initial investment that some might find prohibitive. If you're one of those people, never fear! There are plenty of ways that you can reuse artificial grass once you're done with it. Here are some of our favorites:
Chances are your dog (or dogs) have damaged your natural grass yard. Artificial turf is fantastic for producing a weed-free, green toilet area for Fido. Create a border with pavers or stones and fill the area with potting soil or gravel. Add some toys and shade, and your dog will have the perfect location to go.
Hate greens fees? Create a backyard putting green with artificial grass. Level off a section of your yard, lay down turf, and add cups or flags for targets. For added complexity, create sand traps or water features.
Turf is an excellent way to create a soft, safe surface for kids to play on. Whether you're looking to build a simple sandbox or an elaborate play set, artificial turf will provide a comfortable landing spot for tumbles and spills. Best of all, it's much easier to clean than traditional grass – simply spray it down with the hose when it gets dirty.
Durable and low-maintenance, concrete patios aren't necessarily appealing. Artificial turf may brighten up your patio without removing the concrete. Secure it with landscape cloth or nails over the existing concrete. Add pavers or other hardscaping to the lawn for a personalised effect.
Artificial turf makes weed-free garden beds. Trim it to fit and fasten it with landscape fabric or pebbles. Then plant your favourite flowers, vegetables, or plants. The turf will prevent weeds and make garden bed maintenance easier.
FAQ's
What Can You Do With Artificial Grass Scraps?
If you have any artificial grass scraps left over from a previous project, don't throw them away! There are plenty of ways to reuse them. One option is to create a small putting green in your backyard. Another is to use them to line garden beds or as a weed barrier. You could even use them to create a soft, safe play area for kids.
Can Artificial Grass Be Lifted And Relaid?
Yes, artificial grass can be lifted and relaid if necessary. However, it's important to note that the turf may not look as good as it did the first time around. This is because the backing material can start to break down and degrade after a few years.
What Is The Lifespan Of Artificial Grass?
With proper care and maintenance, artificial grass can last for up to 15 years. However, the average lifespan is closer to 8-10 years. After this point, the turf will start to show wear and tear and may need to be replaced.
Conclusion
It is important to note that artificial grass does come with an initial investment. However, there are plenty of ways that you can reuse artificial grass once you're done with it. These tips are just a few of the ways that you can get creative and make the most out of your artificial turf. For more information, contact Artificial Grass La Jolla at (858) 779-0088.